Buylist Process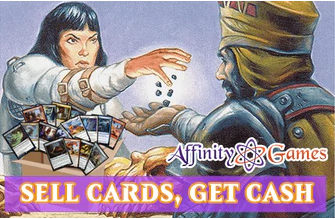 Step 1

Download the TCG Player App:

Email export the CSV or plain text including the following details:

   

 

Email to support@affinityccg.com 




 

 

 
Step 2

Send all TCGplayer App CSV or Plain Text to Support@affinityccg.com

 

    
Step 3

Wait for approval before shipping the collection to us.

***You should receive an email within two business days letting you know if we've accepted your sell request! Once you receive approval, follow the instructions in the email to get your cards to us.
Step 4

Ship the items to our location with a secure shipping provider.

Affinity Games
Attention: Buyer
Ground Floor Grand Central Bldg.
Pabayo-Hayes St. Brgy. 4
Cagayan de Oro City, 9000
088 881 0581/0917 544 4305
support@affinityccg.com

We recommend LBC Express, AP Cargo, and J&T Express services. 

Please include the Excel sheet printout with contact name and number.

Please ensure you pack all items well during shipment.  Affinity Games does not cover lost, damaged, or stolen shipments.

***Due note that some collections have weight requirements that must be covered by the shipper. 

***Affinity Games does not take responsibility for the shipping service, we do RECOMMEND you get tracking and insurance for the collection being sent to us in case it is lost or stolen.
Step 5

Once we receive your sell list, our team will verify the contents and process your payment within five business days or less!

We send payment through Bank Transfer and PayPal.

Rates for Bulk (These can go higher or lower so please send us a list via the TCGPlayer app excel sheet)
Bulk Rates

Bulk Items must be Near Mint or Lightly Played

         
         Based on TCGplayer Card Condition Guide



For bulk items (i.e., anything not being purchased individually for $0.10 or higher):

Common $0.002 (Must in 1000 Pieces or 1.775 kgs)
Uncommon $0.002 

(Must in 1000 Pieces or 1.775 kgs)

Rare $0.03
Mythic $0.13
Basic Land $0.005
Full-Art Basic Land $0.03
Foil Common $0.03
Foil Uncommon $0.03
Foil Rare $0.10
Foil Mythic $0.13
Foil Basic Land $0.05



Bulk Items in Moderately Played (MP) condition or worse will be given a value of zero, as they are generally not sellable items